'You have to sniff out joy. Keep your nose to the joy trail'
Buffy Sainte-Marie
A video was born in the time of Covid. It emerged from a strong urge to communicate the extreme usefulness of joy for personal and global transformation (not a well-known phenomenon) and from the willingness of three people to voluntarily work together for a year to make it happen.
As the project was nearing completion, an email salutation – 'Joy is the new normal!' – arrived. It expressed succinctly the video's invitation to create a new world with joy. This website was imagined simultaneously as the follow through, the afterword and the possibility to share thoughts and joyful-isms after seeing the video, and to begin to create something of that new world here and now. It's success will be measured by visitors moving closer to their own joy through one means or another. (It's already a success! – see Video comments.)
Included on this site are resources from others who know the power of joy and work with it professionally. Try out their joy-making suggestions. Use this site to add to them. Contribute to the Library of Joy with your personal joys, and dig deeper into joy (what feeds it and what starves it) in the blog. Most importantly, share the video with others because we'll never go wrong 'on the joy trail'!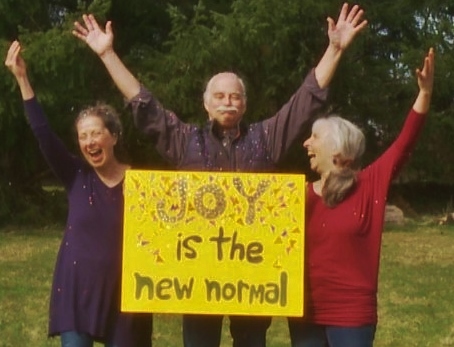 The Joy Video Production Team (L-R):
Joanie Alexander – Researcher, Assistant Editor, Contributing Writer
Chris Carter – Editor, Camera, Contributing Writer, Researcher
Roberta Meilleur – Writer, Researcher, Assistant Editor